It's that time of year, time to enjoy a really yummy bowl of soup. I love soup! The Spy Who Loves Me, not so much. He's not a huge soup guy, although there are a few soups he likes. He's not into brothy soups (is brothy a word?) He's more into creamy soups. Creamy soups are fab, but they can also be pretty fattening. I've found a way to make creamy soups without all the fat that comes from making a roux with butter and adding half and half or heavy cream. And I'm gonna share my secret with you, and you are very welcome!
Yep, Bear Creek Soups rock! And they are so very easy to make. I love making soup from scratch, but if you're pinched for time or not a make it from scratch kinda person, Bear Creek is your new best friend!
This one might just be my favorite, although I have a few favorites. My family LOVES this one, especially my teen son. All you have to do is add 8 cups of water. Seriously. That's it! Now, if you wanna get a little bit crazy, you can add some fresh broccoli pieces and then sprinkle a little bit of cheddar cheese on top of each bowl. But you can just make it like it is and it is really really good!
This one is my new favorite. (I told you I had more than one favorite and I wasn't kidding.) I tried this one for the first time recently and wow, my taste buds did summer-salts. There is a restaurant in San Diego called Croutons that has chicken and wild rice soup that I love, and this is very similar to theirs. I added some chicken that I had baked in the oven and boy oh boy was it good. My family loved this one, too! I bought some for my married daughter who with the help of her husband produced the most fabulous grandpunk any grandma ever did have, and they went crazy for it! She said they couldn't stop eating it. And why even try? It's that good!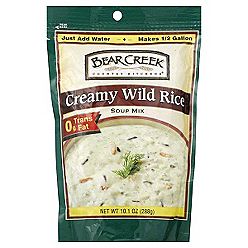 I adore this one, too! I brown 1 pound of ground beef and add it to the soup and it's awesome! Serve it with french bread and a salad and you've got an easy yet delicious meal.
Bear Creek has so many delicious flavors. I haven't tried one that I didn't like. And get this, they are just over three bucks at my BFF Super Walmart! Now that's a deal!
Like I said, you can't beat soup from scratch, but these are truly the next best thing! Give them a try, you won't be sorry!
Hope you enjoy stirring it up!